Affiliate Disclosure: This post may contain affiliate links. If you make a purchase after clicking on these links I will be compensated at no extra cost to you. However, I never recommend anything I don't love or wouldn't use myself!
Yorkies are known for their gorgeous, sleek, and soft hair, however, maintaining that hair requires thorough brushing, washing, and conditioning. Using your own conditioner is often way more convenient than finding (or remembering to find) a specially formulated dog conditioner, but…
Can you use human conditioner on Yorkies? Generally speaking, hair conditioner formulated for humans should not be used on Yorkies. Yorkies have sensitive, allergy-prone skin; human conditioners may cause irritation and other issues especially if used frequently.
To appropriately care for your Yorkie a dog conditioner suited for your Yorkie's skin and hair is best. Read on to find out why that is and what you should look for in a conditioner for your Yorkie along with some recommendations.
Why You Shouldn't Use Human Conditioner On A Yorkie
A good dog hair conditioner generally serves the same purposes as human conditioners. They can help a great deal when it comes to keeping hair tangle-free. They rehydrate the hair and skin and help to protect against environmental contaminants.
So why not use human conditioner?
Human products are formulated for skin with different pH levels
Stronger fragrances can cause skin irritation and offend a dog's sensitive sense of smell
Dogs often lick themselves and can ingest small quantities of conditioner
Human conditioners may contain excessive oils that can be unhealthy for a dog's skin and coat
Washing your dog isn't always at the forefront of your mind when you do your regular grocery shop. Dog hair conditioner is easily forgotten and that's if you're lucky enough for your local store to even keep it in stock.
The occasional emergency wash and condition using human products (at least those on the more gentle side) may not cause your Yorkie too many issues. However, you should do your best to stick to specifically formulated products, especially for more regular use.
The Difference Between the Human Scalp and Canine Skin
One important component of skin (for dogs and humans alike) is the acid mantle layer. This is a thin and oily protective layer that covers the skin. It serves to keep the skin hydrated and helps to protect against contaminants such as viruses and bacteria.
For humans, the acid mantle layer has a pH level ranging from 5.2 to 6.2. Yorkies acid mantle, on the other hand, tends to be more neutral, ranging between 6.5 and 7.5 on the pH scale.
One of the reasons why you shouldn't use human products (shampoos in particular) is that they can be a little harsher in removing the acid mantle layer; this leaves your dog's skin more exposed to environmental contamination.
Among other things, a good conditioner acts as a substitute for the acid mantle that is lost when washing with shampoos. It gives some protection against contaminants that could otherwise cause skin conditions.
Picking the Right Conditioner for a Yorkie
So what are the best conditioners for you to use on your Yorkie to maintain healthy hair and skin?
A good quality conditioner works in conjunction with a good quality shampoo that soothes and restores without canceling out the benefits of proper washing.
Great conditioners lather on well, but (more importantly) rinse out well so they don't leave a heavy buildup on the coat blocking the Yorkie's natural shine. Cheap, oily ingredients look okay initially, but ultimately build up and block the coat's airflow.
The best conditioners infuse the hair with ingredients that not only moisturize but boost hair strength and integrity while the hair cuticles are open after shampooing. It does all that, and it can be easily rinsed out.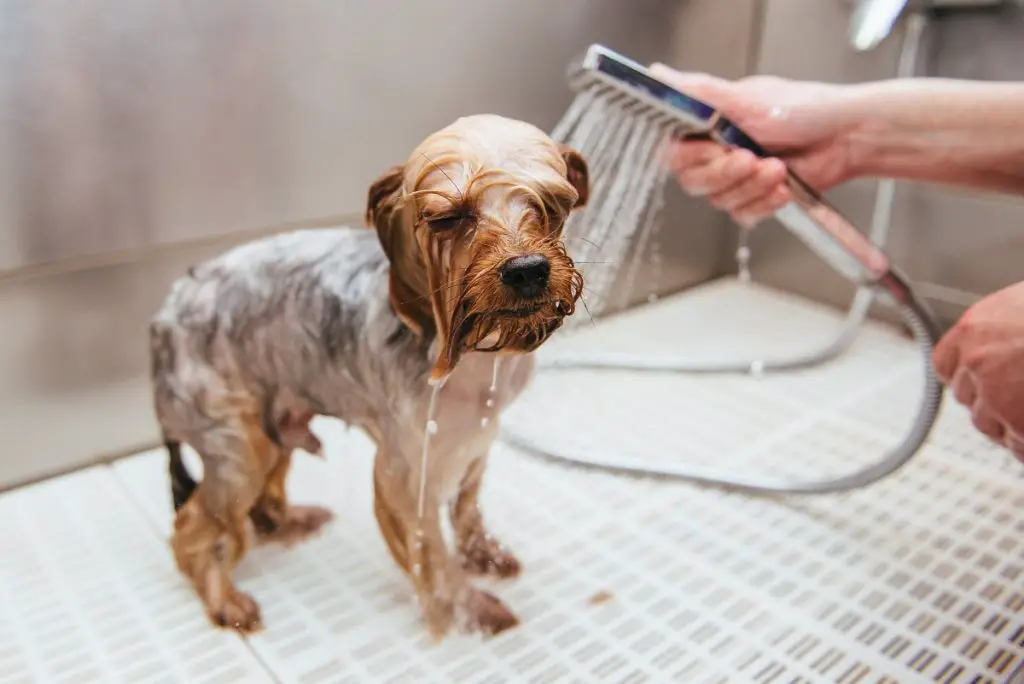 Here is a selection of popular choices among Yorkie owners and enthusiasts. All links are to Amazon.
Earthbath Oatmeal and Aloe Conditioner
Earthbath Oatmeal and Aloe Conditioner is an industry (and personal) favorite. Used in conjunction with its shampoos, this conditioner detangles your Yorkie's hair while enriching and reviving its coat.
It uses colloidal oatmeal to soothe sensitive skin as well as natural, 100% biodegradable ingredients.
Earthbath Oatmeal and Aloe Conditioner:
Works well with the entire line of Earthbath Shampoos
Closes hair cuticles that open during shampooing
Vanilla and Almond scent
Made in the United States
Note: Must avoid contact with eyes
Chris Christensen Spectrum Ten Conditioner
Chris Christensen Spectrum Ten Conditioner is designed for soft drop coats such as a Yorkie's. This conditioner is formulated with emulsifiers that add lubricity and slip when combing and brushing.
Spectrum Ten Conditioner enhances a Yorkie's shiny, silky long hair and controls its soft, curly short hair.
Healthy coats are promoted by added moisturization that combats oiliness and soothes dry coats.
Chris Christensen Spectrum Ten Conditioner:
Eliminates frizz
Fights humidity through therapeutic creams
Handles long or short hair
Easy to rinse out
Contains very light fragrance
Espree's Silky Show Conditioner
Espree's Silky Show Conditioner uses natural ingredients to achieve a show dog appearance. It uses aloe vera, jojoba, safflower oil, and Vitamins A, D, and E to hydrate, moisturize and condition your Yorkie's locks. It boasts improved texture, shine, and manageability, which helps when combing and brushing your dog's hair.
Espree's Silky Show Conditioner
Detangling makes brushing smoother
Quick results for softer, stronger coat
Smells great
Made in the United States
Note: Needs to be rinsed well or causes itching
Leave-In Conditioner for Yorkies
Another viable option to condition and moisturize your pup's hair is a high-quality leave-in conditioner. One of the benefits of a leave-in conditioner is that the moisturizing effect of the conditioner is not rinsed out.
Along with rinse-out conditioners, leave-in conditioners seek to:
Nourish your dog's coat and skin, keeping it strong and healthy, and preventing hair breakage
Moisturize your dog's skin, even restore the healthiness of dry skin
Treat and prevent tangles
Restore silky shine to the natural Yorkie coat
Protect your Yorkie against the buildup of dirt and debris on their coat
Leave-in conditioners allow you to freshen your dog's smell in between bath times.
Leave-in conditioners focus on different skin issues. So consider what needs your Yorkie has as you determine which leave-in conditioner is best for your pup.
Moisturizing: moisturizing your dog's coat and skin is the whole point of a leave-in conditioner. Still, finding the right product can reduce skin problems from developing. Ingredients like coconut oil, shea butter can target and help prevent dry skin.
Shine: Yorkies are known for their silky, shiny hair. A leave-in conditioner can restore a dull coat to its natural shine.
Anti-Itch: Sensitive, itchy skin exacerbated by allergies is a common fate for Yorkies. Finding a leave-in conditioner that targets skin irritation can make a real difference for your dog. Ingredients that soothe itchy skin can also help prevent future outbreaks.
Detangling: A leave-in conditioner should enhance and strengthen your Yorkie's hair, not contribute to any tangling issues. A detangling conditioner helps to remove your dog's tangles and helps prevent future problems.
All-Natural Ingredients: Because of Yorkie's susceptibility to skin issues, some ingredients may irritate their sensitive skin. Using a leave-in conditioner with all-natural ingredients can help alleviate some of the irritations caused by harsh chemicals.
Scent: Using leave-in conditioners between bath times offers an excellent opportunity to freshen up your pup. Choose a leave-in conditioner with a pleasant scent that you both enjoy.
Lillian Ruff-Pet Dog Leave-in Conditioner & Detangler Treatment Spray
Lillian Ruff-Pet Dog Leave-in Conditioner & Detangler Treatment Spray is a great leave-in conditioning product benefitting a range of skin types. It uses gentle ingredients without any harmful chemicals.
The detangling formula leaves your Yorkie's coat feeling silky soft and smooth. It's easily sprayed on in between bath times.
Lillian Ruff-Pet Dog Leave-in Conditioner & Detangler Treatment Spray
Conditioning continues as the product is left on the hair and skin
Doesn't contain harmful chemicals which contribute to skin irritation
Free of aerosol, gluten, and sulfates
A cruelty-free vegan product
Made in the United States
Note: Some users aren't keen on the baby powder scent
The Stuff Dog Conditioner
The Stuff Dog Conditioner is specially designed for dogs with sensitive skin or allergies. It is hypoallergenic. It is an optimal detangler and helps prevent coat breakage.
The Stuff Dog Conditioner:
Provides hassle-free grooming
It comes as a concentrate so you can use it thinner or thicker as needed and desired. It can be diluted up to a 15:1 ratio
Works well on long or short hair
Forms a protective barrier against dirt and urine staining
Note: Needs to be diluted
PRODOR Prebiotic Anti Itch Spray – A Natural Leave-In Dog Conditioner
PRODOR Prebiotic Anti Itch Spray – A Natural Leave-In Dog Conditioner is explicitly formulated as an anti-itch spray. It stops itching on contact!
It contains probiotics that sustain the natural protective skin barrier on your Yorkie's coat. The probiotics feed the hair helping it become stronger and healthier.
It contains puppy friendly ingredients like vanilla, coconut, oatmeal, and jojoba, which help to soothe and moisturize skin and hair. It's pH-balanced 7.0 for dog hair and skin.
It's naturally deodorizing, containing a fresh, light fragrance. It's hypoallergenic.
PRODOR Prebiotic Anti Itch Spray:
Works like a hot spot spray and a skin conditioner soothing and treating dry patches
One spritz application
Detangles and strengthens hair
Probiotics and natural ingredients
Like many high-quality conditioners, it is free of harmful ingredients, such as paraben
Note: For super sensitive dogs, the scent might be too fragrant
As you can tell, products are available to meet even the strictest requirements for natural ingredients and non-toxic formulas.
Conditioners are vital to the health and shine of your Yorkie's hair and coat. Accounting for any skin sensitivity allows you to find a conditioning moisturizer that soothes and heals your pup's skin.
Enhancing the Impact of Your Yorkie's Conditioner
After you've selected your chosen conditioner, follow these tips for the best possible outcome for your Yorkie.
Use a pin brush to brush your dog's hair daily. Conditioners detangle and help prevent new tangles, and a regular brushing routine keeps those beautiful locks groomed and glamorous.
Continue checking your Yorkie for dry spots indicative of sensitive skin or allergic reactions. Use the conditioner to help moisturize these areas. Leave-in conditioners are useful for quick spot treating these areas.
As you brush your dog's locks, check for knots. If you're able to work out the knots with your fingers, carefully do so to avoid breakage. If the knots require tugging or struggle, carefully cut the knot out with rounded-tipped scissors. Avoid tugging and tearing their fragile hair.
Along with a focus on skin sensitivity, limiting bath time to once a month helps decrease skin issues. Washing too often dries out their sensitive skin, which leads to skin irritation and problems. Conditioners are essential to improve the moisture balance of your pup's skin.
After taking such care in determining which conditioner to use for your pet, it's obvious that your dog's food should also be selected as carefully. Choose high-quality, nutritious kibble for your dog. Salmon oil increases their healthy shine from the inside out.