Affiliate Disclosure: This post may contain affiliate links. If you make a purchase after clicking on these links I will be compensated at no extra cost to you. However, I never recommend anything I don't love or wouldn't use myself!
The question of collar vs. harness for Yorkies is a fairly popular one. With the help of my very own Yorkie, I have tested both collars and harnesses on many walks, and also researched the pros and cons of both. Here's what I have found.
What is better for a Yorkie – a collar or a harness? For toy breeds like Yorkies, a harness is safer than a collar. Yorkies have limited muscular support around their neck. Using a harness will help to prevent possible damage to the trachea, larynx, and spinal cord while also providing additional control and security.
I can confidently say that when it comes to time on the leash, the harness is the safest and best option for a Yorkie. However, collars still have their place in everyday life for Yorkies too. Please read on to find out more along with which types of collars and harnesses are best for Yorkies and how to fit them properly.
Collars vs. Harnesses – What's the Difference?
Both harnesses and collars have their uses for different applications. So what are the pros and cons of each and how are they best utilized?
Pros & Cons of Harnesses for Yorkies
Ideal for use with a leash and for training

Disperses pressure evenly and safely

Great for stopping escape artists

Better control discourages your dog from pulling
Slightly trickier than a collar to fit and remove

Older unaccustomed dogs may dislike wearing a harness
Pros & Cons of Collars for Yorkies
Perfect for carrying identification tags

Quick and easy to fit and remove

Can be comfortably worn all of the time

Easily adjustable for growing puppies
Can cause damage to a Yorkie's' delicate neck when used with a leash

Some Yorkies tend to wriggle out and escape
Should You Get a Harness for Your Yorkie?
Yorkies have continued to be a very popular breed, ranking 10th out of 191 breeds for the AKC, and their characteristics have a lot to do with that. While they are small and dainty, they are also some of the feistiest dogs you can imagine. They're courageous, intelligent, and often not afraid to take charge.
Their sense of adventure and tenacity also means that they can be great escape artists (I know mine is). If they decide they want the freedom to roam, they may just take it upon themselves to find a way to separate from their leash to go and do their own thing.
Most Yorkies only weigh between 4 and 9 pounds (1.81 – 4.08 kg). Their small necks can be strained much more easily than larger dogs. Training with a harness not only keeps them much more secure but is safer because corrective action is spread throughout the Yorkie's tiny frame as opposed to just around their fragile necks.
We all want our dogs to be safe while we're out and about and when we are training them, we want to do so in a firm yet pain-free way. If you put your fingers around your Yorkie's neck you can feel how fragile it truly is. When you take away that gorgeous layer of fur, their necks are tiny.
If your Yorkie is a perfectly trained, pillar of obedience and never pulls or tries to get out of their collar, you may not need a harness. However, as perfect as we believe our dogs to be, natural instincts are still very much a factor even for the most obedient pups.
Whether it's a passing cat or the flicker of a rabbit or rodent in the undergrowth, your Yorkie's instincts can take hold. All it takes is one misfortunate lunge or for you to give a reactionary tug on the leash for your dog to suffer an injury to one of the many important components of their neck. Unfortunately, some of these injuries have the potential to cause permanent damage. That right there makes the harness the better option.
Using a harness over a collar will not only give you better control over your dog but also better peace of mind. With the right harness, you will not need to worry about what you and your Yorkie may encounter on your daily walks and no more slipping out of the collar!
How to Measure a Yorkie for a Harness
To measure up your dog so you can decide on the right sized harness for them you really only need two dimensions. Those being around their neck where your Yorkies collar would usually sit and then around the largest portion of their chest.
It's best to measure your Yorkie using a measuring tape, however, if you do not have one you can also use a piece of string and then measure the string against another measuring device such as a ruler.
Recommended Yorkie Harnesses
There are many options to choose from, however, these two are perfect for Yorkies and I highly recommend whichever best suits your needs.
I have selected sizes that should fit the majority of Yorkies, however, particularly as Yorkies can vary greatly in size, I urge you to double-check the sizing before you buy, a good fit is essential. There are multiple sizes (and colors) of each available so you should be able to find the right one to suit your needs.
This harness is of the highest quality. While it is a little more on the expensive side, it is worth the money. It's hard-wearing, well equipped, and fully adjustable around the neck and chest.
One of the key features is the fully crash-tested safety carabineer for the car. Using this detachable strap, You can tether your dog to one of your car's standard safety belts which will help keep them safe in the event of a crash. Not only this but it prevents your dog from distracting you while you drive. It has two separate D-rings for attaching a leash. One in the standard position at the back and an additional one at the front which is designed to help train dogs by turning them around if they begin to pull.
A cozy, lightweight, durable harness perfect for Yorkies and it won't set you back much either. It has an adjustable chest strap and is easy to use. It's also available in 14 different color combinations.
The comfort of this harness is on another level. The wide chest piece reduces pressure while still keeping your Yorkie very secure. It has even been praised by cat owners who say that their cats won't wear other harnesses. Believe me, if a cat can put up with it, your Yorkie shouldn't have any issues at all!
Why a Collar Is Still Necessary for a Yorkie
While harnesses are definitely the way forward whenever a leash is involved, a collar still has it's place firmly around your dog's neck.
The beauty of collars is in their simplicity and ease of use. They can be worn almost any time for prolonged periods while not causing your Yorkie too much hassle or discomfort. This makes them the best place to keep identification tags any time your Yorkie is not on a leash.
Dog ID tags are mandatory in most 1st world countries. Here is what American Humane says about ID tags in the US…
"All cats and dogs need to wear collars with ID tags, rabies vaccination tags and city or county licenses (where applicable). The ID tag should include the owner's name, address, telephone numbers (day and evening) and the pet's name."

americanhumane.org
It is also recommended that all dogs be microchipped for identification purposes. If something happens to their collar, any veterinarian or shelter should have a chip reader so they can be traced back to you.
Nevertheless, whether or not a Yorkie is chipped, a collar can inform someone of how to contact the owner more quickly and easily. Dogs without a collar can easily be mistaken for strays and people may be concerned as to whether or not they've had their shots or if they are safe to handle.
Wearing a collar fitted with an ID tag at all times means that your dog is not only more likely to be returned to you but also returned to you more promptly. This can help to prevent any additional and unnecessary distress for both you and your Yorkie in the event they ever get lost.
Types of Collar
Even more so than harnesses, there are many types of collars to choose from. However, some of these collars inflict pain and can be quite dangerous to use if the owner is not properly trained.
To simplify things, here is a list of the main categories of collars. Each type may have multiple variations but the main principles are the same.
Flat Collar / Everyday Collar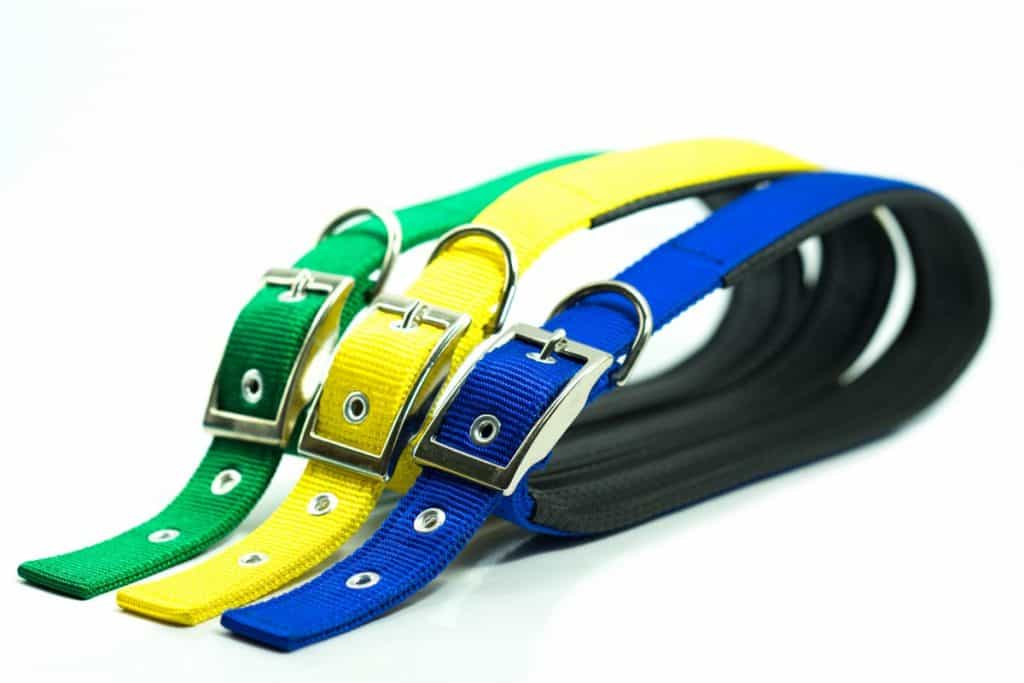 Probably what you think of when someone says dog collar. A simple band that wraps around your dog's neck for carrying contact information and the like. Suitable for all breeds of dogs and available in many materials with various buckles or clasps.
Martingale Collar / Limited Slip Collar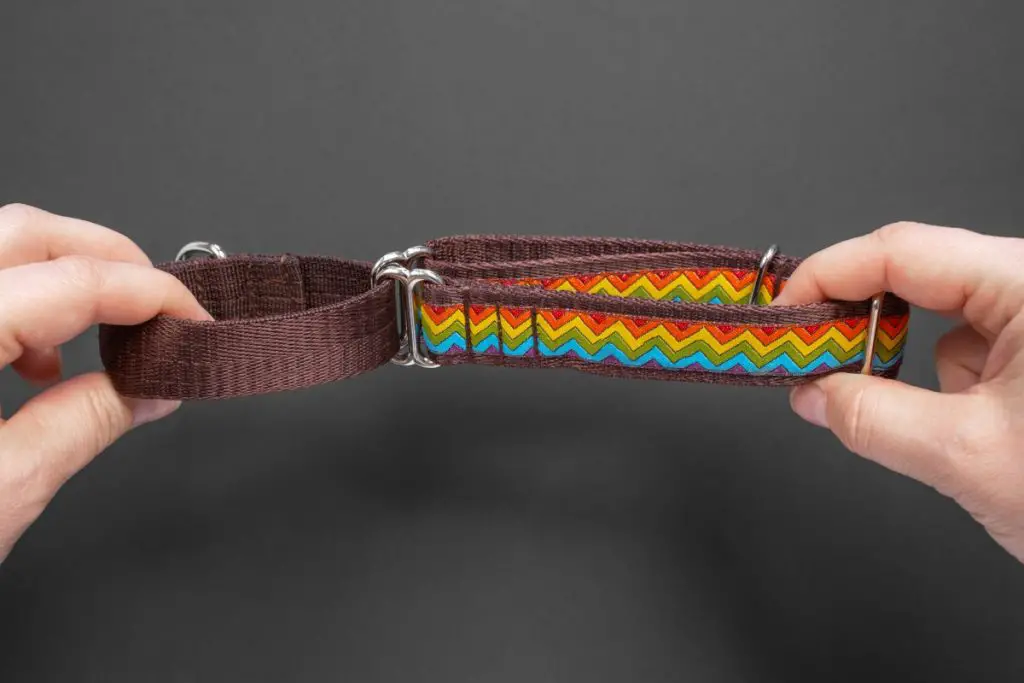 The martingale collar is one of my favorite options. They were originally designed to prevent sighthounds with slender heads from slipping out of their collars but they make great training tools and are suitable for most breeds including Yorkies.
When tension is applied to the leash, the collar contracts with equal force around the full circumference of your dog's neck as opposed to putting excessive pressure on the front of the neck only. The collar can only contract down to a set size which is adjustable. This great design prevents the collar from fully closing around your dog's neck.
Head Collar / Leader Collar / Halter Collar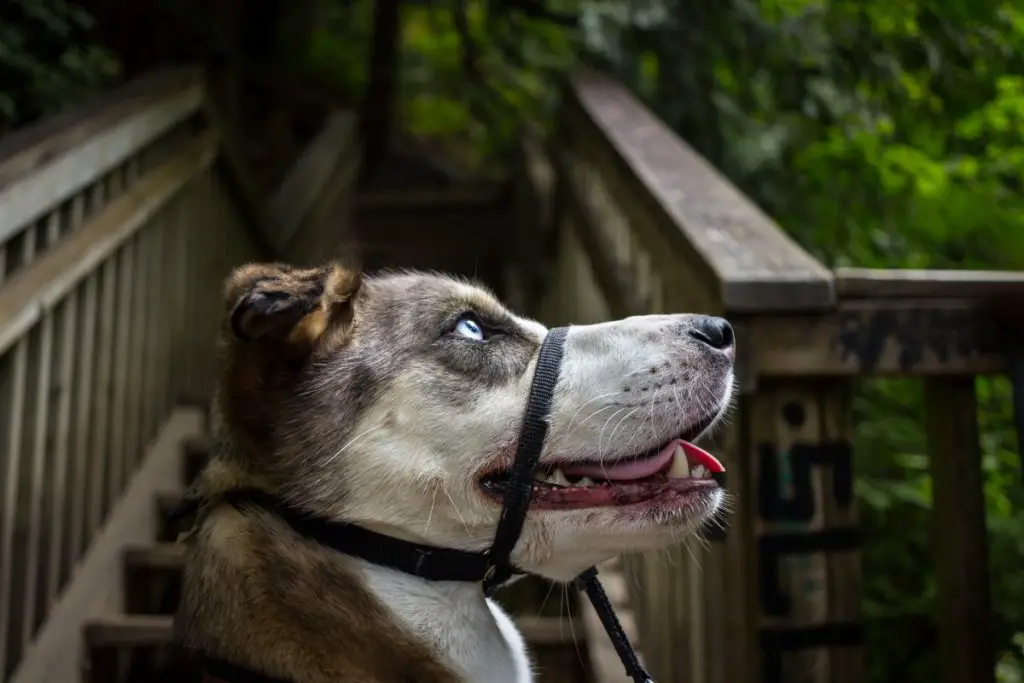 To be fair, although this is in my list of collars, it actually looks more like a harness that is worn a bit like a muzzle. I would recommend using one of these for a larger, unruly dog as it is a great training tool to stop pullers in their tracks. The device goes around your dog's neck and over their snout. When tension is applied to the leash, the device will force your dog's head to turn. Similar halters are used to lead horses and such.
Smart Collars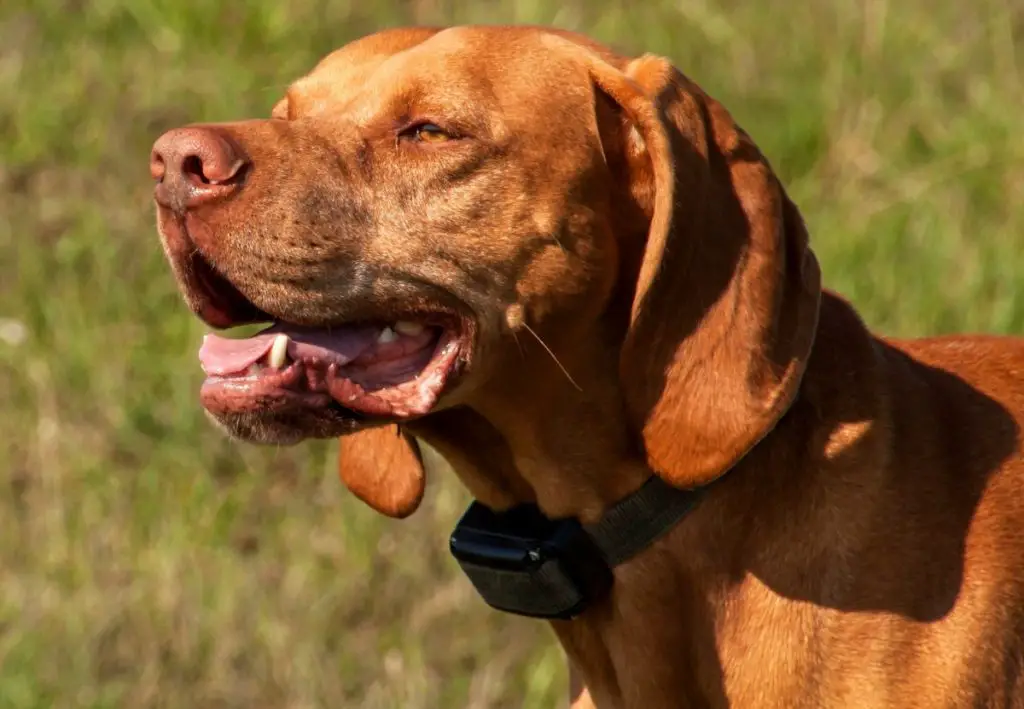 These days there are many variations of smart collars with various functions. They can often be paired up with smartphones via the use of an app. Many of them can also beep, vibrate or even mildly shock to help with various aspects of training. While I wouldn't personally encourage the use of shock collars, no matter how humane they claim to be, smart collars certainly have their uses. Here are just a few categories of smart collars:
GPS Trackers
Health and activity monitors
Training aids
Anti-bark collars
Collars That Are Not Suitable for Yorkies
The following collars can be dangerous for any dog breed if used incorrectly and I would strongly advise that you do not use them on a Yorkie's delicate neck.
Slip Collar / Choke Chain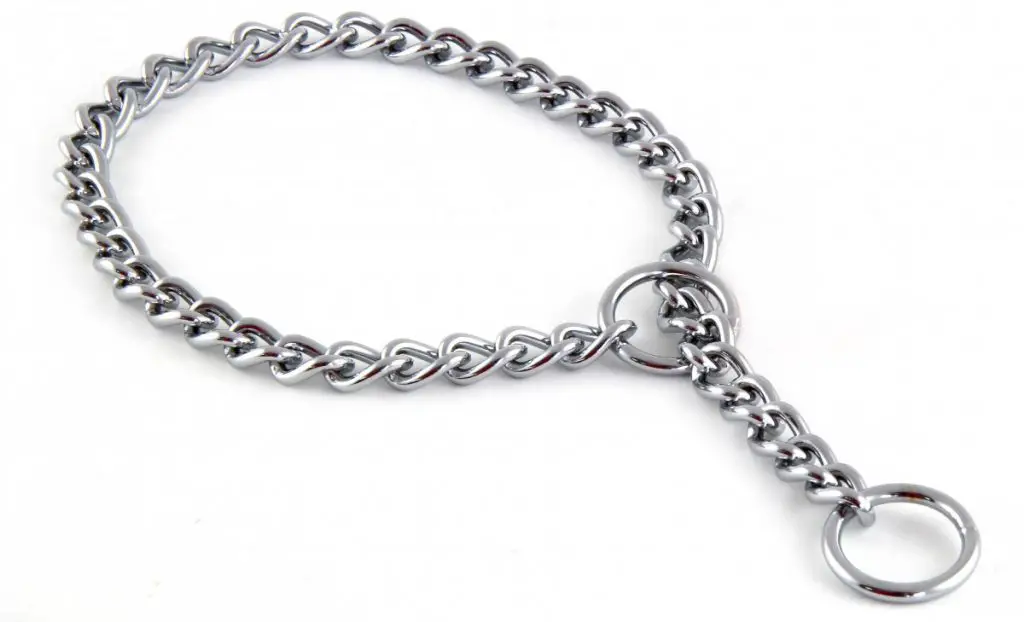 These are often used to train large and unruly dogs. However, in the wrong hands, they can be dangerous. They are designed to inflict discomfort to teach dogs obedience and stop them from pulling. The name is true to its function. Injuries such as a crushed trachea dislocated neck bones, and asphyxiation are all associated with these collars, so it's important that you know what you are doing if you are using one. Luckily their usage is not as common as it used to be. Never leave your dog unattended while they are wearing one of these collars.
Metal Prong Collar / Pinch Collar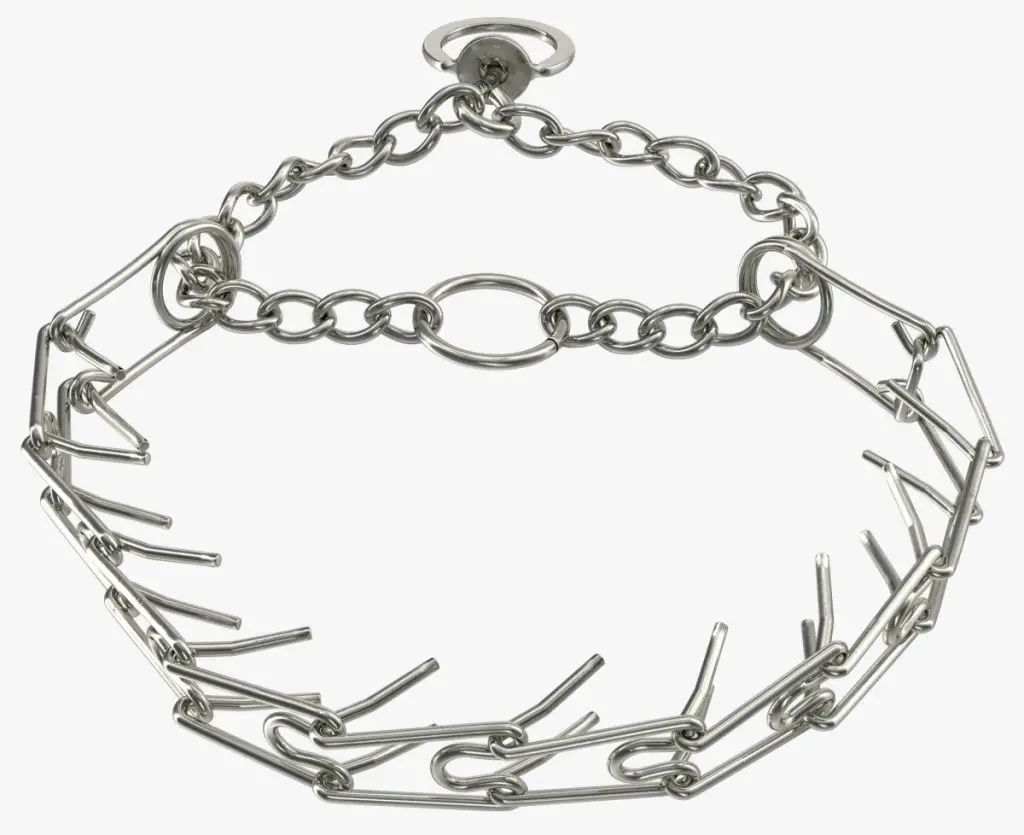 These work fairly similarly to choke chains; used for correction training via the use of pain or discomfort. They can be useful for strong and stubborn dogs in the hands of trainers who know how to use them properly and safely. However, they can easily inflict the same neck injuries as outlined above. I would strongly discourage anyone from thinking that a choke chain or metal prong collar is all that's needed to train a dog. Never leave your dog unattended while they are wearing one of these collars.
The Best Collars for Yorkies
As you can see from the section above, there are many collars to choose from. However, I would personally only recommend a few, so…
Which collars are best for Yorkies?
Flat/Everyday collar – For keeping tags attached at all times.

Martingale collar – For training purposes or escape artists that tend to slip out of their collar.

Smart collar – To suit your individual needs such as tracking, monitoring, or training.
If you are thinking about getting a smart collar for your Yorkie, I would invite you to take a look at some of the currently available options on Amazon as there is a wide range.
For everyday collars or martingale collars, here are some recommendations…
Blueberry pet provide high quality collars for a low price. They have a whole range of types, sizes and colors available. The XS collar is a mere 8-11 inches making it perfect for Yorkie puppies or teacup Yorkies. You can use the link to view the XS variant but you can also select and view any collar from their collection from the same page.
Max and Neo Collars
Max and Neo make a range of great collars for dogs. These models all have quick-release clasps which are ideal for Yorkies and they come in a wide range of colors.
Max and Neo donate an identical collar to a dog rescue with each one sold. Visit their site for more info.
The standard, affordable option. Complete with reflective threads for better visibility in the dark. Perfect for everyday use. Available in a range of colors.
The nylon martingale collar. A great, comfortable, anti-slip collar at a reasonable price. Many people complain that the chained versions often tarnish lighter dogs fur. This is a common issue not unique to any particular brand, however, these pure nylon versions bypass the issue.
The stainless steel chain martingale collar. When tension is applied to the leash, the stainless steel chain makes a quiet but audible sound which acts as an additional que for your dog to stop pulling. This type of collar is preferable for many dog trainers.
How to Fit a Yorkie Harness or Collar
Having gone to the effort of researching and choosing the perfect collar or harness for your Yorkie, you'll want to make sure that you have fitted it correctly too.
If your dog's collar or harness is too tight it may restrict movement or cut off circulation. On the other hand, if the harness or collar is too loose, it can cause chaffing or your dog may be able to wriggle out and escape. Luckily this part of the process is fairly simple to get right.
Once you have fitted a collar on your Yorkie, you should only be able to slide your index and middle finger between the collar and your dog's neck and it should be a snug fit.
For harnesses, this two-finger technique is still more or less applicable. Check out this video for further information and for a more visual aid to fit your dog's harness or collar.
To Conclude
Your Yorkie is an intelligent ball of adventure that has a life expectancy of 12-15 years. You want to make sure that they stay happy, healthy, and active during that time.
While there are many factors at play when deciding what is best to use for your Yorkie, their safety and health should be your top priority.
Using a harness instead of a collar for walks on the leash has little to no chance of causing stress or harm to their little bodies.
Additionally, at all times they should be fitted with a comfortable collar that has all of their required identification details attached.
Consider all types of collars and harnesses and which ones are most suited to your specific Yorkie.